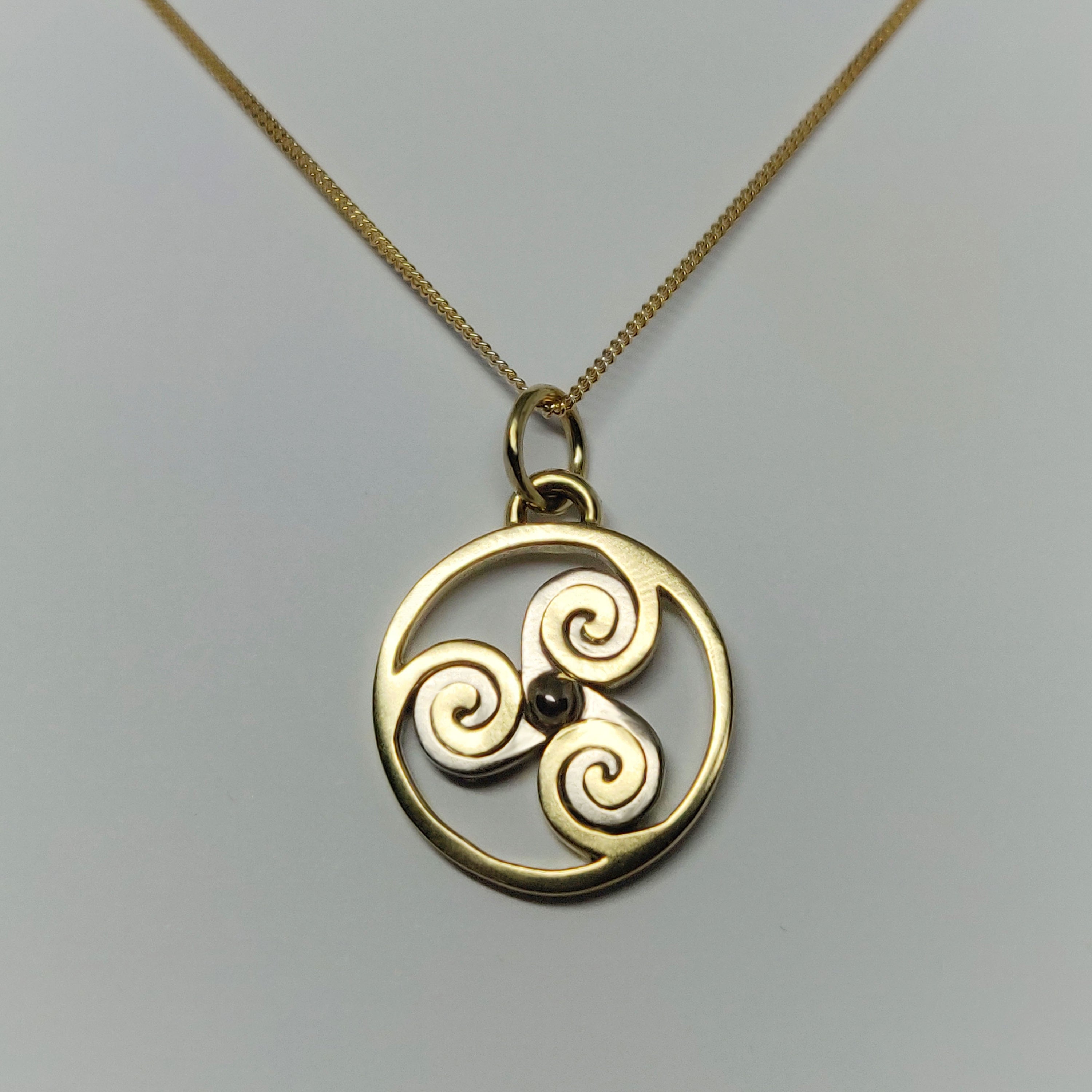 Triskelion Trinity Necklace - 18K Yellow & White Gold
Description
Details
Delivery
The Triskelion is a symbol older than the pyramids at Giza. It can be found carved into funeral mounds in Ireland, dated to nearly 6000 years ago. 3 in 1 is a powerful symbol and appears over and over again throughout different societies. 
The inner Triskelion is cast in 18K White Gold with Palladium, while the outer shape is made in 14K Yellow Gold before the two parts of the necklace are joined into one.
• Material: 18K Yellow and White Gold

• Chain Size: 18 inches

• Dimensions: 19mm tall, 16mm wide, and 1.5mm deep
• This is a made-to-order item. If you live in the UK, you'll get this within 2 weeks of ordering. We'll send you a Royal Mail tracking code after we've packaged and sent your item.

• If you live in the US or Canada, you should have it within 2-3 weeks. It may take longer, depending on covid staff shortages in your area. We'll send a tracking code so you can see your package at every stage of its delivery journey.
Triskelion Trinity Necklace - 18K Yellow & White Gold
FAQ
When will I get it?
The 'Delivery' tab above should give you a rough idea. Most things are made-to-order so we get the size exactly right for you (especially rings). If you have a drop-dead date you need something by, then email us. We'll be happy to let you know how we can help.
Can I return it if I don't like it?
Of course!

We want you to love your new piece of jewellery. If you don't, then let us know and you can send it back to us within 30 days for a full refund.
I'm not sure about my ring/wrist/necklace size
Yep. We hear this one a lot.

If it's a ring size you're concerned with, you can check our ring size guide.

If you're still not sure, we're happy to help before your purchase, so just email us if you're not sure and we'll make sure you get the right piece in the right size.
How can I be sure of the quality?
Ok, people don't ask us this, but we're sure they must be thinking it!

There are a lot of jewellery sites out there that are selling cheap items shipped in from China, and calling them 'hand-made'.

Our items are ALL made by us. You can check out our facebook page, instagram page , or you can check out this video on youtube of our process.
Shipping
Shipping Options
We ship for free with Royal Mail.
If you need a faster service (particularly if you're outside the UK) then you have an option at checkout to pay for courier delivery.

Order tracking
All of our items are shipped tracked delivery. The moment we drop it off, we'll send you an email. You can then track your order every step of the way, from our door to yours.
Get in touch
Need something super quick?

Email us to let us know what you need, and by when. We'll do whatever we can to make sure your special occasion goes off without a hitch.
About us
We're featured in Tie The Knot Scotland Magazine
Our friends at Tie The Knot Scotland Magazine were kind enough to feature us in their latest issue.

We're also featuring in articles and a bridal shoot in upcoming issues. Watch this space for more news!
Suppliers for Historic Scotland
We've been fortunate enough to become official suppliers for Historic Environment Scotland.

Having our work on sale at historic sites managed by these wonderful people has been a real honour for us.
We also do custom work
If you're looking for something extra special, we're here for you.

Our bespoke service is centred around you.

Contact us for a free consultation and 3D image of the design we can make for you.